Dragon Boat Festival · Eat at current HOT&HOT branches, enjoy the same amount for FREE at new branches!
June 10, 2021
Dragon Boat Festival is around the corner, so are our two new branches at Amsterdam China town and in Utrecht! Before diving more into the festival, here is a "spoiler" of special events and offers of this month to celebrate the festival 🤭
HOT&HOT Snack Set for 9.99 (ONLY at Rotterdam branch)
The combination of Crispy Chinese Pork (with chili powder) and ice-cream boba milk tea!
Free Meals at New Branches
No matter how much you spend in two current branches (Rotterdam & Amsterdam Museumplein) during 11th June and 30th June, you would get a voucher for the same amount for dine-in at either of our two new branches within 30 days when they are open.
~ · ~ · ~ · ~ · ~ · ~ · ~ · ~ · ~ · ~ · ~ · ~ · ~ · ~ · ~ · ~
Well, now let's go back to the Dragon Boat Festival, which has a history of over 2000 years. As the name indicates, racing in dragon-shaped boats would be held on the date of the festival. The tradition is out of the purpose to memorize an ancient Chinese poet named Qu Yuan, who was also the minister of the state Chu in ancient China. Qu Yuan was exiled due to his objection of alliance with another state Qin. When the state Chu was conquered by Qin years later, he suicided by drowning himself into a river. It was too late for locals to save him, even though they raced out in boats (this is where the tradition of boat racing comes from). To protect Qu Yuan's body from being eaten by fish, sticky rice balls were thrown into the river to feed the fishes.
Twenty centuries later, the story of Qu Yuan is still told to kids to praise his devotion and vigorous support for his country. To memorize the Patriotic poet, besides boat racing, it becomes a tradition to eat "zongzi", steamed sticky rice dumplings covered by reed leaves, on the day of Dragon Boat Festival.
On the Dragon Boat Festival, people greet each other with "端午安康(duan wu an kang)", which could be interpreted as wishing each other good health and be safe and sound. It is slightly different from other traditional Chinese festivals when for example "happy lunar new year" is commonly used.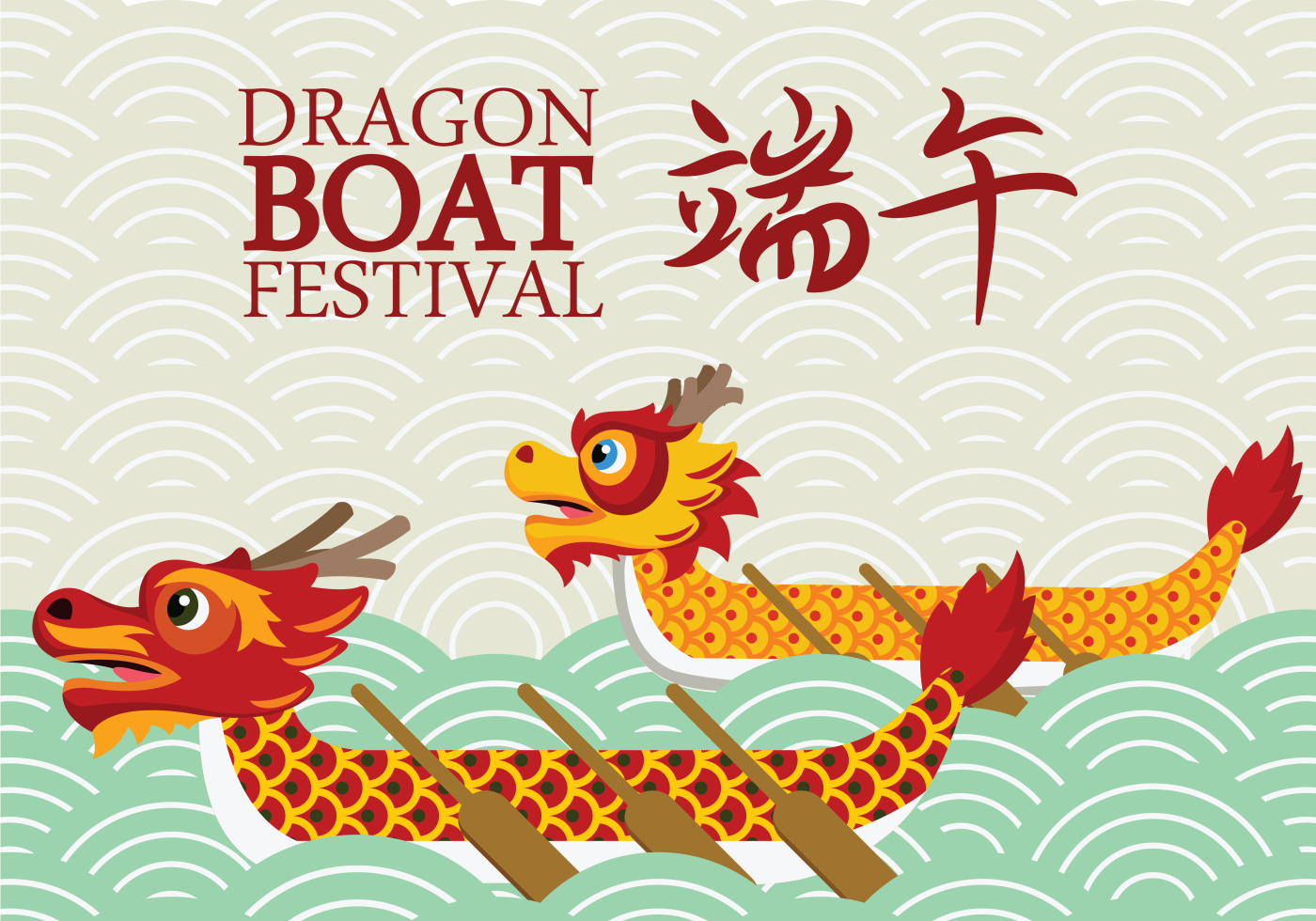 ~ · ~ · ~ · ~ · ~ · ~ · ~ · ~ · ~ · ~ · ~ · ~ · ~ · ~ · ~ · ~
Traditional Chinese festivals are based on lunisolar calender. The dates various every year. In 2021, the Dragon Boat Festival falls on 14th June. At this time of the year when the pandemic is subdued, it is time to stay healthy while enjoying the summer breeze and the vibrant sunshine. We would like to wish you guys both health🤞 and happiness🥰.
To celebrate the upcoming Dragon Boat Festival and to welcome our two new branches, we have planned some special evens and offers for you.
🥳Festival Event One🥳
HOT&HOT Snack Set
 € 9.99
1 portion of Crispy Chinese Pork
1 cup of Ice-cream Boba Milk Tea (three flavours of boba tea available)
* ONLY available for dine-in and takeaway at ROTTERDAM branch from 14th June – 20th June.
🥳Festival Event Two🥳
Eat at current branches, enjoy the same amount for FREE at new branches!
Have you heard of our two new branches, one at Amsterdam Chinatown and one in Utrecht? Though the pandemic has slowed down the preparation process for a bit, we are thrilled to announce that the two branches would open SOON! Can't wait to welcome you to our well-decorated new branches where you would discover special Chinese elements and ingenious interior designs, and most important, tasty and authentic Chinese flavours ranging from hotpot, cold dishes, bubble tea etc.
How does the event work? Well, from today on until 30th June, 2021, all guests who eat inside HOT&HOT Rotterdam branch or Amsterdam Museumplein branch would get a receipt from us. Within 30 days after the new branches open, you could bring your family or friends to either of the two branches. If you finish dining before 17:00, you could use the receipt (with the stamp of HOT&HOT on it) as a voucher of the same amount of money to pay for the meal*.
*One voucher for a table only. Only valid for guests who finish dining and check out before 17:00.
~ · ~ · ~ · ~ · ~ · ~ · ~ · ~ · ~ · ~ · ~ · ~ · ~ · ~ · ~ · ~
If you haven't tried Chinese hotpot before, this would be a good time to give it a try!
Having hotpot with friends, family or even only by yourself is such as fun experience that you enjoy authentic Chinese flavours in a well-decorated restaurant while spending some quality time with beloved ones.  From the flavours of hotpot soup base, food ingredients that would be cooked in the boiling soup,  to DIY dipping sauce and the bubble tea drink, everything is open for you to choose based on your own preferences.
Just a bried guide for those who have never tried hotpot, hotpot includes three important steps:
1) choose how many flavours of soup base that you would like to have
Soup base sets the tone since you would cooked all food ingredients into it. Currently there are six flavours of soup base available for you to choose from. What if you want to try different flavours at the same time? Well, that where the two-flavour soup base and three-flavour soup base come. If you couldn't decide, why not ask for recommendations from our staff. From my side, the combination of spicy soup base and mushroom soup base would be a good starter. Please note that the soup base is made from pork bone.
Are you vegan? No worries! All the flavours of soup base have vegan versions (water base).
2)choose what food ingredients that you would like to cooked in the soup base
Regarding the food ingredients, we offer a large range of categories. We've been asked frequently what beef options that we offer. I am so proud to say that we have quite a lot, for example sliced Australian wagyu beef (my personal favorite), sliced tender beef, wagyu beef ribs, beef balls, marinated spicy beef (it goes really well with the spicy soup base!) etc.
Sliced Australian Wagyu Beef
There are also quite a lot non-meat food ingredients: root vegetables such as sliced lotus roots, sliced purple sweet potato; green vegetables such as Chinese paksoy, Chinese cabbage; mushrooms such as enoki; or soy bean based products like tender tofu, fried tofu skin etc.
3)tailoring your own dipping sauce at our "sauce bar"
While the soup based already gives a strong flavour of the food, you could add more flavours by dipping the cooked food into dipping sauce. We have a special sauce bar where you could find red chili, coriander, oyster sauce, minced garlic, soy bean sauce etc. Use your imagination to tailor your own! Our staff is always there if you need any suggestions or help.
~ · ~ · ~ · ~ · ~ · ~ · ~ · ~ · ~ · ~ · ~ · ~ · ~ · ~ · ~ · ~
Follow us on social for future updates